In the coming months we hope to utilize this page to bring you important updates and news about Bear Arms Indoor Boutique Shooting Range and to share relevant news about the firearms industry in general. Please visit back often to see the latest updates and information about our facility.
MEDIA: Should you wish to interview owner Cheryle Rebholz, please email: cheryle@beararmswi.com.
Bear Arms Showcased on TMJ4
Lawsuit prompts a change in police pistols
The Milwaukee Common Council approved the Milwaukee Police Department's request to purchase new handguns, after three unintentionally discharged since 2020.
According to the Common Council, MPD will spend $450,000 from the MPD Federal Forfeiture Revenue Contribution Account to purchase duty weapons and holsters. These weapons will be Glock 45s after the department spent the last four years using the Sig Sauer P320. Read the full article here.
You might love your grey blonde hairstyle but to thieves and accosters that yells VICTIM. Attackers don't pick on the young and strong. They look for easy targets — the vulnerable, those less likely to put up a fight. And that includes the elderly. Male or female. Read this article from Concealed Carry Magazine for self-defense tips and moves that'll help keep attackers at bay — increasing your chances of a better outcome.
Bear Arms Showcased on TMJ4 For Safe Gun Program Participant
Bear Arms Indoor Boutique Shooting Range is an active participant in the Safe Gun Storage Program. Safe Gun was created to help veterans during difficult times to provide a "cooling off sanctuary" for their firearms. 
Many veterans face psychological and emotional issues that impact their lives. Depression, joblessness, PTSD to name a few. Safe Gun allows vets to put down their guns during times of emotional crisis. Loved ones of vets are encouraged to take advantage of this program as well.  
Cheryle Rebholz, owner of Bear Arms, explains that all weapons are stored in a safe for up to 90 days for safekeeping. Watch the video from TMJ4 to learn more or read the full article.
A female owned and operated gun range in Mequon is providing a welcoming space to encourage more women to safely and confidently own a gun for protection.
TMJ4 news reporter, Shannon Sims, talks with Cheryle Rebholz, co-owner of Bear Arms Indoor Boutique Shooting Range in Mequon, Wisconsin. Female owned and operated, Bear Arms encourages women to empower themselves through a variety of self-defense and firearms classes.
IBAW Executive Director, Steve Kohlmann, visits Bear Arms Training Center for a quick tour.
BEAR ARMS FEATURED ON TMJ4s THE MORNING BLEND.
Co-owner and founder, Cheryle Rebholz, demonstrates her shooting prowess on TMJ4s The Morning Blend. The exclusive Milo Simulator Theatre at Bear Arms is the only 180 degree dry-fire simulator in the state of Wisconsin. Currently, Milo features over 800 exciting scenarios that range from simple target shooting to "full-blown shoot-outs" complete with bad guys that'll test your speed, accuracy and critical judgement calls.
Want a closer look at the Milo Theatre in action? Click play button ▶ below. 
A Look Back On Attempted Armed Robbery In Mequon
It wasn't that long ago when two employees at A. C. Zuckerman Jewelers in Mequon became victims of an attempted armed robbery. In broad daylight no less. To hear their story and relive their experience, click on the video. But the reason behind publishing this story is to alert community and neighbors that violent crime can happen anywhere — at any time. That's why we think it's so important to sign up for our upcoming Self-Defense & Violence Prevention Co-Ed Workshop — Sunday, March 28. To find out more about this potentially life-saving course — and how it can help protect you and your loved ones, visit our Classes, Ed & Training Page.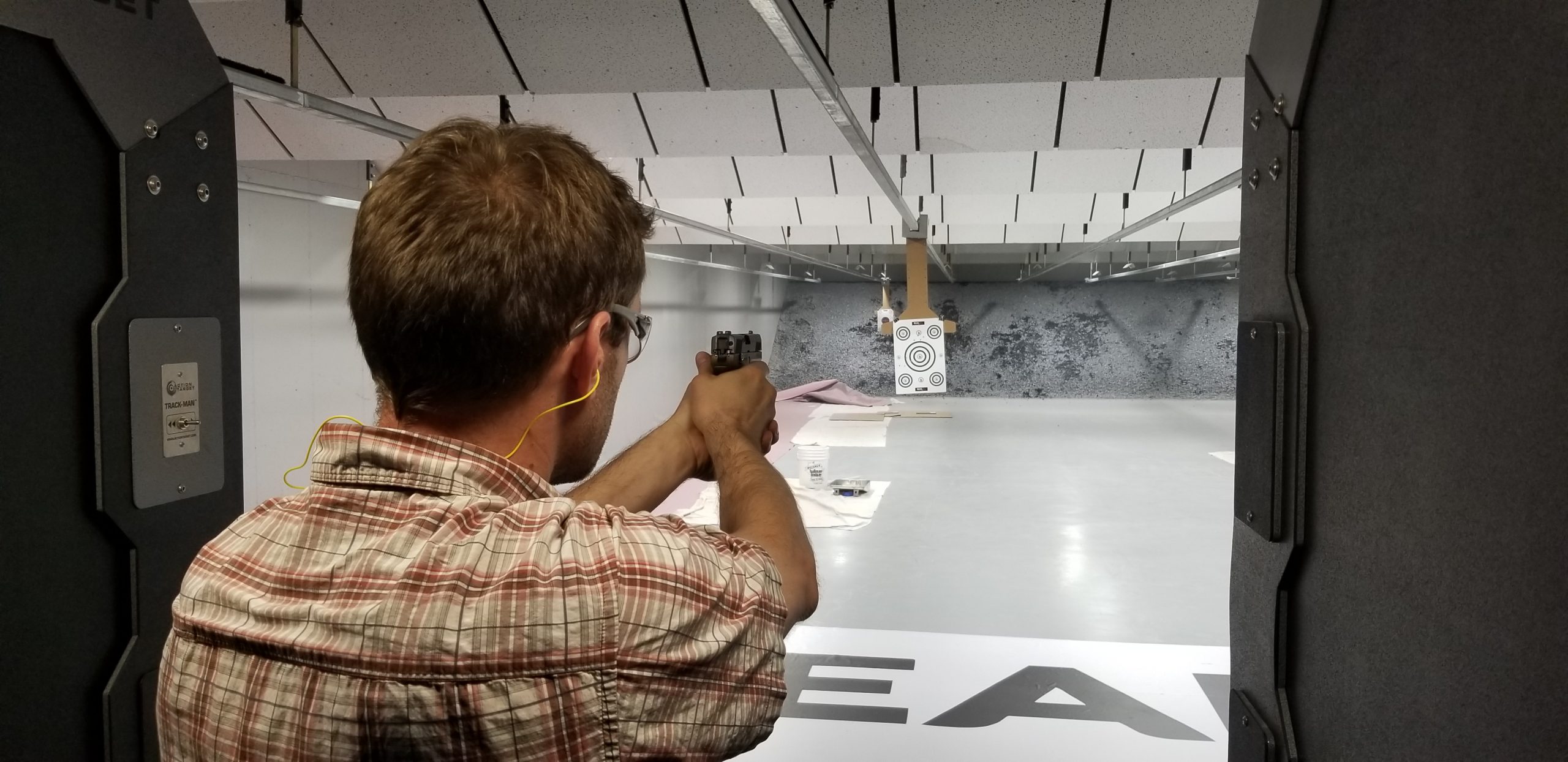 Bear Arms received "essential business" status from the state of Wisconsin and is open Tuesdays through Sundays.
Wisconsin: Second Amendment Rights Protected by Governor's Emergency Order
Governor Tony Evers' recent Emergency Order #12, titled "Safer at Home," designates "firearm and ammunition suppliers and retailers for purposes of safety and security" under "Essential Businesses and Operations," exempting them from being shut down during this state of emergency. This action by Gov. Evers recognizes that the Second Amendment is the law of the land while other jurisdictions are using the pandemic as an excuse to strip Americans of their fundamental right of self-defense.
Shut down or altered service, the spread of the coronavirus has businesses all across southeastern Wisconsin changing their day-to-day routines. But one Mequon business is actually seeing an increase in customers — and handling it all within the rules.
Learn About Your Red Flag Laws
Randy Macchi, Chief Operating Officer and General Counsel for U.S. & Texas LawShield discusses how important it is to have "Red Flag Law" coverage and legal counsel should you ever fall victim to unlawful, unwarranted, or improper red flag law action. Click on the video to hear more about this controversial subject — and where your state stands with red flag laws.
Sen. Lindsey O. Graham (R-S.C.), as Senate Judiciary Committee chairman, is a powerful proponent of some variant of a red-flag law, also known as an extreme risk protection order.
Congressional Democrats insisted that a new bill to make it easier for the police to take guns away from people deemed dangerous must be paired with an expansion of background checks.
Several states implemented red flag laws after the shooting at a high school in Parkland, Florida, last year, and there is also a bipartisan proposal in the Senate for a federal red flag bill
Bear Arms Launches Radio Blitz Ad Campaign
Bear Arms recently unveiled a series of fast-paced radio spots designed to get casual shooters and potential gun owners to take notice of the everyday violence and crime around them — and how to protect themselves and their loved ones against it. The six radio spots are currently running throughout the day and evening on WISN AM Talk radio. Take a listen to the spots and let us know your favorite.
The Milwaukee Journal Sentinel unveils a new article about the opening of Bear Arms Indoor Boutique Shooting Range and the fastest growing segment in the firearms industry — women.
Bear Arms Opening
CBS 58 News announces the opening of Bear Arms Indoor Boutique Shooting Range.
JS Online Interview Bear Arms Opening
The Milwaukee Journal Sentinel unveils a new article about the opening of Bear Arms Indoor Boutique Shooting Range and the fastest growing segment in the firearms industry — women.