It's really a destination unto itself. Bear Arms Indoor Boutique Shooting Range, a stellar, state-of-the-art indoor range, entertainment and educational facility. Stop by and see for yourself what makes Bear Arms the stand alone choice for firearms enthusiasts everywhere. 
ALWAYS OPEN TO THE PUBLIC.
HOURS | RATES | CONTACT
E: info@beararmswi.com
P: 262.478.9111
F: 262.518.0373
Address: 9653 North Granville Road Mequon WI  53097
Hours
Closed Mondays
Tuesday-Friday: 10 AM – 6 PM
Saturday: 9 AM – 6 PM
Sunday: 11 AM – 4 PM
Closed Holidays (See bottom of page)
1/2 Hour Rates
(Perfect For Rifle Sighting)
Standard Shooter $12.50
1 Hour Rates
Standard Primary Shooter $25
Standard Secondary Shooter $12.50
Binge Shooter Rates
Standard Shooter $100
4 Hours (5th hour is complementary)
NEW POLICY CHANGE:
Effective immediately: All Sales Final. No cash refunds. In-store credit only. Certificate good for 1 year from date of issue. Proof of Purchase and receipt required.
Policy change: Students can reschedule their class only one time. If you fail to show up for your rescheduled class you will not be given a refund.
Upcoming Classes & Events
HINT: Sold Out classes sometimes experience last-minute cancellations making slots available again.
Visit back often in case your class opens up due to a cancellation. 
AR-15 Basic
Sunday, December 3, 2023
Sunday, January 7, 2024
Basic Handgun Fundamentals
Saturday, December 9, 2023

—Sold out!

Thursday, December 14, 2023

—Sold out!

Saturday, December 30, 2023

—Sold out!

Saturday, January 13, 2024

—Sold out!

Thursday, January 18, 2024
Saturday, January 27, 2024
Concealed Carry
Saturday, December 2, 2023

—Sold out!

Saturday, December 16, 2023

—Sold out!

Saturday, January 6, 2024
Saturday, January 20, 2024
Self-Defense & Violence Prevention
(For more class dates go to our Training/ Education page)
A signed waiver is required at Bear Arms for classes and Range use. Save time. Sign up for your Waiver now.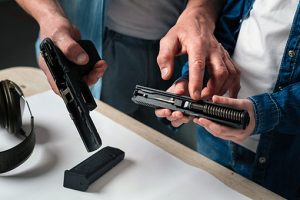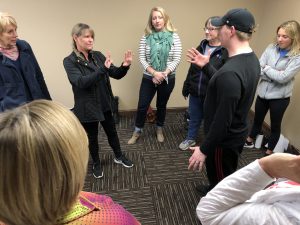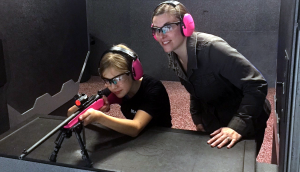 HERE'S WHAT PEOPLE ARE SAYING ABOUT OUR INSTRUCTORS
"Bill's Self Defense class at Bear Arms was a great learning experience for many and I learned so many things. The lesson plan and the things I learned are absolutely life changing and helpful." 
Bill Stedman — Instructor
"Tom was very informative… a comfortable setting to ask questions & learn.
I felt welcomed and comfortable. Would recommend!"
Tom Henley, Conceal Carry Class Instructor
"Julie was knowledgeable and thorough. I learned a lot and will be back for training. Very nice place.
Well organized and easy to ask questions. Instructors put you at ease."
Julie Fingeroos, Beginner Handgun Instructor
"Very knowledgeable staff, good time-management. Jake made the classroom structure easy to understand for people with no experience."
Jake Fleischmann, Handgun 101 Instructor
"Excellent experience, I highly recommend it especially for beginners. Cindy is an outstanding instructor."
SIGN UP FOR THE CLASS YOU'D LIKE TO TAKE — TODAY!
What can you expect from our Basic Handgun Fundamentals Class? Take a quick peek.
See what's to come when you take our Self-Defense & Violence Prevention Co-ed Workshop.
Excellent place! Friendly, patient and knowledgeable staff! The only place at this level of service that I have been to!
Moshe R.
Traveled almost 2 hours with some friends to check it out, and we were NOT disappointed. We were met by extremely well informed and professional staff who provided us with an awesome variety of different rentals to experience. One of the best experiences of the year. 10/10 would go again.
Mark F.
This is the best shooting range we've ever been. The simulators were fantastic! It's a beautiful facility and you'll love it!
Rhonda C.
My wife bought some range time for my birthday as a surprise and I've got to say, Rebecca and the staff At Bear Arms made it an extremely memorable experience. Thank you all and I highly recommend Bear Arms to everyone.
Dreagon H.
I loved it so much, I became a member on the spot! Great atmosphere and staff who truly care! Welcome to Mequon and congrats on the official opening.
Jordan M.
The owners are wonderful people, with a great business sense. Their compassion and dedication to providing a service that the Mequon area needed will benefit the community as a whole and make firearms owners and recreational shooters have another place to go and exercise their 2nd amendment right.
Ricky R.
One of the best ranges in the area. Great staff and facility. And the simulated room is super fun to get a break from live shooting. Highly recommend!
Kaci B.
My wife and I were staying in the area for vacation and wanted to hit up a range for an hour or so. We found Bear Arms online and made a reservation and am I glad we did!! The staff was very friendly and helpful. We will definitely be back when in the area again.
Grant G.
Thanks so much for adding this class! [Self-Defense & Violence Prevention] I took it along side my daughter and son's girl friend. It was so AWESOME! We really appreciated how Bill adds humor to such a serious topic. I don't think my girls have every thought about how to protect themselves like this, but they can't stop talking about it. I wish that every young person could have this class as part of their education! Actually practicing these moves made such an impact on all of us. We loved your shop too!  Thank you so much for offering this.
Lisa R.
Hi again. I just wanted to let you know we had a very good time visiting your establishment! A special thanks to the young man, whose name I have forgotten, who, besides being extremely helpful, let us borrow his personal Colt 1911 to try out. In addition I have to apologize for not cleaning up our spent casings. In all the excitement, we completely forgot sorry about that. My girlfriend Julie and I are very sure that we will return if we are ever in your area again. Until next time.
Casper N.
I recommend this very beneficial class, it helped me feel more prepared then before. I suggest for my high school.
Rachel, age 16
Good place. Good people.
Darren Woods
Bear Arms is Now Listed with 211
211 provides hundreds of non-profit and government resources to local area residents for free, 24/7.  As part of United Way Worldwide, 211 puts these valuable resources at your fingertips.
Bear Arms is excited to be listed with 211 as an important source for professional firearms training and gun safety. Whether it's finding help for a domestic violence incident — or a place where veterans can meet, 211 is your source for important community information. And Bear Arms is proud to be a part of it. To find out more, click here.
Worried About a Loved Veteran? Let Bear Arms Store Their Firearms Until Things Cool Off.
Do you know a veteran going through a tough time? If someone you know is going through a crisis (like a break-up, job loss, or legal trouble) or have had a major change in their behavior (like depression, anger, or more drinking), storing guns outside the home until the situation improves may save a life. Bear Arms can store personal firearms for up to 3 months—giving someone time to cool off.
If you'd like to learn more or get help for a veteran you know, take a look at our new Veterans page for resources, phone numbers, and more to help out someone you know that may be in need.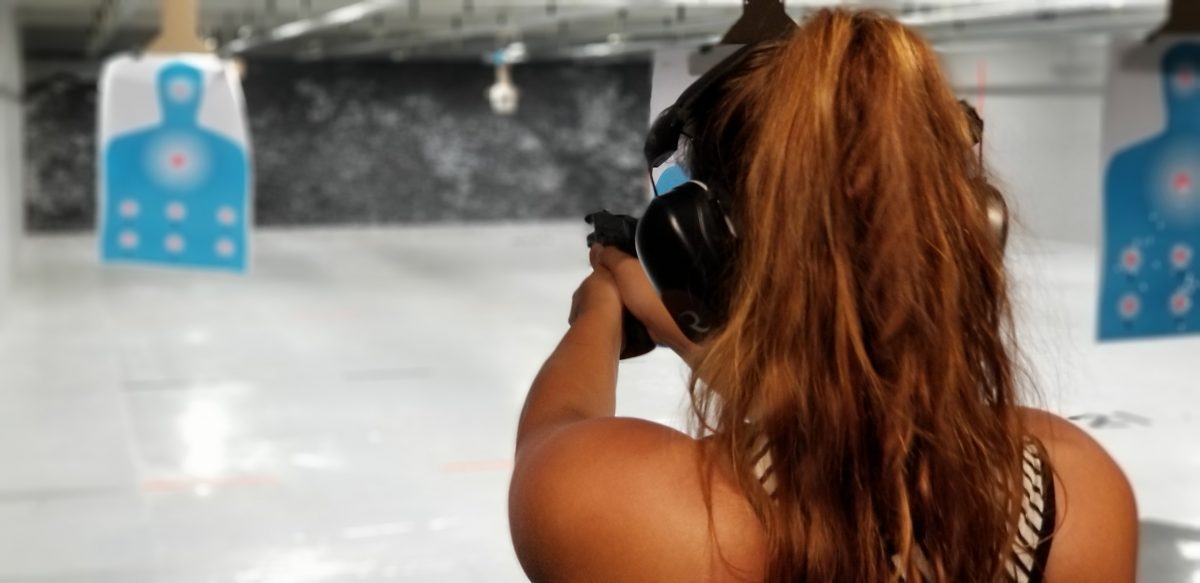 Are you spending more and more time at the range? Maybe it's time for a Membership. 
If you find yourself spending more time enjoying the range and shopping at Bear Arms, maybe you'd be better off with a Membership. They start for as little as $100 for a 30-day Trial Pass. Plus you receive a host of benefits as well. Here are just a few:
Free Range time, front-of-line privileges, use of Members Lounge and TV, discounts on products, gun cleanings, and classes — even special guest passes depending on the Membership you subscribe to. The bigger the Membership, the more benefits you receive. So, why not check 'em out, today? Click here for more info. And enjoy!
MEMBERS RECEIVE ADDITIONAL PERKS AND BENEFITS
Free Range Time & Range Priority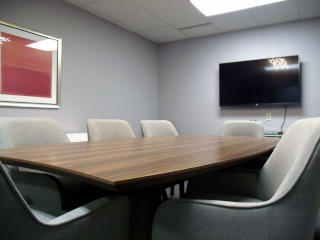 Give Us A Shot. Five Memberships to Choose From. You Won't Be Disappointed.
What Are You Waiting For? Become A Bear Arms Member or Subscribe!
Sounds like a lot of people enjoy Bear Arms. We're sure you will too. So why not consider becoming a Member? We're sure to have a membership that works for you. If you'd like to be on our mailing list, just subscribe by filling out the form at the bottom of this page. It's absolutely free. We'll keep you in the loop about special events, firearms news, self-defense classes, league action, special discounts on merchandise — and lots more. Either way it's a win-win!
Bear Arms… The #1 Choice For Firearms Transfers
Bear Arms is a recognized Federal Firearms Licensee (FFL) & Federal Firearms Transfer dealer. Why pay more to have your firearms transferred? Whether a pistol or rifle, we charge less. We also transfer suppressors. You save more! That's why we're Wisconsin's Preferred Firearms Transfer & Licensee Dealer.
Call 262.478.9111 to find out our gun transfer rates
Bear Arms Has Teamed Up With Fleet Farm To Bring You A Special Offer!
Here's a nifty little deal. Rent any pistol or revolver at Bear Arms and if you purchase that exact same model at Fleet Farm of Germantown or West Bend, you'll receive a voucher good for a FREE half-hour of range time! Woohoo! That's right! Just bring your voucher along with your proof of purchase from Fleet Farm and we'll set you up for a free 1/2-hr of range time on us.
Rent from nearly three dozen eligible firearms on display. Try before you buy! It's a great way to find the right pistol or revolver for you. Then look for your best deal at Fleet Farm. Pick up some ammo while you're there — or purchase at Bear Arms. And start enjoying your firearm — and free range time on us. 
To review a list of firearms that we rent, click on our GUN RENTAL INVENTORY!
* Long guns / rifles excluded.