Mark Wierzbinski
Instructor
Mark is an NRA Certified Instructor and Range Safety Officer. He has successfully completed instruction and course work from The National Rifle Association (NRA), Front Sight Training Institute, the USCCA (United States Concealed Carry Association), Massad Ayoob Group-MAG 20, Concealed Carry University and the Menomonee Falls and Germantown Citizen Police Academy.  Mark is also certified in First Aid, CPR, AED and the administration of NARCAN.
Mark's teaching style delivers classroom content with hands-on skills and drills in a fun, interactive goal-oriented environment. Mark appreciates that firearms training and education is an intensely personal choice and commitment.  Whatever your current comfort and skill level may be, Mark will work to help you to safely achieve greater confidence and proficiency.
NRA Certified Pistol Instructor
NRA Certified Range Safety Officer
USCCA Certified Instructor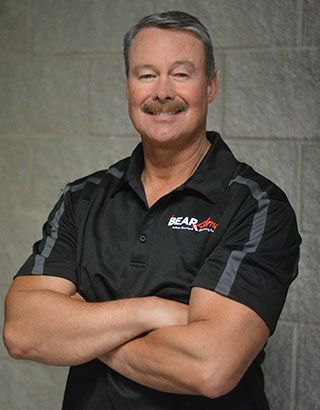 Steve Bzdusek
Instructor
Steve Bzdusek brings many years of experience to Bear Arms as President and Lead Firearms Instructor at My Personal Defense Training, LLC and MPDConcealedCarry.com. Steve has over 30 years of local law enforcement experience, serving 10 years with the Milwaukee Police Department and 22 years with the Mequon Police Department. In 1996, Steve became a WI Department of Justice LESB Firearms Instructor. During his tenure at Mequon P.D., Steve received numerous certifications including Tactical Rifle Instructor, Active Shooter Instructor, Reality Based-Scenario Training Instructor, Simunitions Training Instructor, WI DOJ Concealed Carry Instructor as well as a WI DOJ Defensive and Arrest Tactics Instructor.
Steve served as the Lead Firearms Instructor for Mequon P.D. until his retirement in 2013. After his retirement from Mequon P.D. he became a WI State Fair Park Police Officer and is currently the Firearms Instructor with that department. Steve continues to train law enforcement, civilians and non-sworn university safety personnel in firearms and defensive tactics. He also has experience training civilians, including students and local business employees in Active Shooter strategies. For many years Steve taught the Use of Force module and Shooting Range portion of the Mequon Police Departments Citizen's Police Academy.
Steve is very passionate about firearms training and safety is his top priority in any of his classes. His goal is to help you obtain all of the knowledge and newly acquired skills that you had hoped to gain, and to accomplish that in the most efficient and safest way possible. He is a lifetime member of the FrontSight Firearms Training Institute in Nevada and a three-time Distinguished Graduate of their four-day Defensive Handgun course. His hobbies include being an avid combat pistol shooter, hunter, and wing shooter.
NRA Certified Pistol Instructor
NRA Range Safety Officer
MILO Range Instructor
WI DOJ LESB Firearms Instructor
WI DOJ Training and Standards LESB Defensive and Arrest Tactics Instructor
FBI Tactical Pistol Course
Tactical Rifle Instructor (Fox Valley Tech)
Concealed Carry Trainer (Fox Valley Tech)
Simunition Instructor Training (NE WI Tech)
Active Shooter Instructor Training (NE WI Tech)
Active Shooter Instructor Training (Awareness Protective Consultants)
Force-on-Force, Reality Based Training Instructor (Armiger Police Training Institute)
Defensive Handgun Distinguished graduate (FrontSight Firearms Training Institute)
Massad Ayoob Group MAG-20 Pistol Instructor
Glock Armorer
Michael Clemens
Instructor
Michael Clemens, a native of Mequon, has over 25 years of experience teaching firearms and tactics for the military and the federal government, and served as both a Regional Training Officer and Range Master. Clemens holds several firearms training certificates from the Federal Law Enforcement Training Center, the NRA, and is a 32-year veteran of local, military and federal law enforcement. He served as a military policeman and investigator in the U.S. Army and Army Reserve for twenty-two years, deploying to and conducting operations in Bosnia, Croatia, Hungary, Germany, the Netherlands, Kuwait, and Iraq.
As a civilian, he has worked as a narcotics, vice and organized crime detective, a Deputy U.S. Marshal, and as a Special Agent with the Office of Inspector General. Prior to leaving employment with the federal Government in 2016, he worked as the Regional Patrol Commander for the U.S. Forest Service, Law Enforcement and Investigations, supervising law enforcement officers, training, and operations across the 20-state Midwest and Northeastern Region.
Mike holds a Bachelor of Science in Criminal Justice. His other certifications and training include: FBI Command College, the USDA Executive Leadership Program, the Federal Law Enforcement Training Center Criminal Investigator Course, and the U.S. Marshal Academy. He has also served as an Adjunct Instructor at the U.S. Military Academy – West Point, the U.S. Air Force Academy, Marquette Law School, and Fox Valley Technical College's Criminal Justice Program. Currently he works as the National Security Director for Harley-Davidson Motor Company and teaches Criminal Justice classes part-time at Homestead High School here in Mequon.
NRA Certified Pistol Instructor
NRA Range Safety Officer
NRA Chief Range Safety Officer
NRA Instructor-Personal Protection in the Home
NRA Instructor-Refuse To Be a Victim.
MILO Range Certified Instructor
Federal Law Enforcement Instructor Training Program
Federal Law Enforcement Firearms Instructor Training Program
Federal Law Enforcement Reactive Shooter Instructor Training Program
Non-Lethal Training Instructor
Glock Armorer
Sig Sauer Armorer
Neil Cilley
Instructor
Neil is our youngest instructor on staff. With training in formal police work and law enforcement, he brings an understanding of current gun laws and operations and is well versed in the manipulation of tactical weaponry. He teaches our introduction to AR-15 course as well as our defensive pistol and personal customized lessons.
Malissa K. Misch
Instructor
As Managing Partner and Instructor at MK Protection Strategies, Malissa brings her experience and vision for personal safety to Bear Arms. Malissa is a professional safety instructor and entrepreneur who empowers individuals to take responsibility for their own safety and protection. Malissa created MK Protection Strategies to give her trainees the same confidence that she has in a threatening situation or when facing a violent intruder. Her confidence comes from a mindset of awareness, mental preparation, physical practice, possession and knowledge of specific tools and a habit of caution.
Malissa holds numerous Instructor Certifications from the NRA and USCCA. She is an ALICE Certified Active Shooter Instructor and a graduate of Front Sight Defensive Handgun Course. She is passionate about teaching simple ways to better protect individuals, families, schools, businesses and organizations. Her classes include Physical Self-Defense Workshops, Basic Firearms Training, Prevention and Preparation for Home Invasion and Workplace Safety & Active Shooter Response Training. Her Self-Defense workshops focus on the psychology of attackers, awareness and avoidance strategies, verbal de-escalation strategies and pre-contact cues. The workshops use SAFE attack scenarios with the Instructor wearing protective gear as they employ hands on physical attack strategies from the front, rear as well as ground.
Malissa likes to have fun in her trainings and takes pride in her part of the growth and development in others.
USCCA Certified Instructor
NRA Certified Pistol Instructor
NRA Personal Protection Inside The Home Instructor
NRA Refuse To Be A Victim Instructor
ALICE Certified Instructor Active Shooter Emergency Training
Barbara Pollack
Instructor
Barbara is long time resident of Fox Point and married with two daughters, and four grandchildren. She has worked in the community for 35 years. Her work experience includes 19 years at Sojourner Family Peace Center (Formerly the Task Force On Family Violence) as the Director of The Legal Advocacy Program, as well as Director of The Domestic Abuse Intervention Project, an eighteen week program for battered men and women. She also created training for businesses and non-profits entitled When Family Violence Comes to Work. Other work experiences include, Coalition For Peaceful Schools, Children's Outing Association and The Elizabeth Brinn Foundation.
Barb is a Volunteer Instructor with Bear Arms. Her mission is to facilitate a safe, healthy non-violent family environment by creating educational/support groups for men and women.
Recognized for 35 Years of Community Work and Service
Past Director – Legal Advocacy Program
Past Director – Domestic Abuse Intervention Program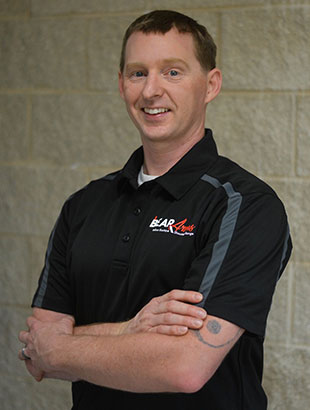 Bill Stedman
Instructor
Bill is a Self-Defense Instructor and Partner at MK Protection Strategies and brings many years of self-defense and martial arts experience to Bear Arms. A firefighter and EMT since 1995, Bill Stedman has a passion for teaching self-defense. "Empowering students in a short amount of time with skills that could be potentially life- saving is extremely rewarding." Bill is a certified partner with SAFE International Self Defense and is proud of his contribution in empowering women and men in the greater Milwaukee area and beyond. SAFE teaches 13,000 high school students per year in over 80 high schools, in college and corporate environments, as well as women's self-defense parties. SAFE International heavily focuses on awareness/avoidance, then verbal and physical strategies. Bill has consistently developed his acumen over the last 36 years, both in the field of martial arts and various other methodologies of practical self-defense.
Some of Bill's projects and experience include: Instructed for Date Safe Project (Can I Kiss You through Mike Domnitrz); Volunteer workshops for Racine Coalition Against Human Trafficking; Annual speaker for Fight to End Exploitation Human trafficking teen event; Conducts corporate wellness self-defense workshops, multiple college, high school and middle school self-defense workshops in Southeastern Wisconsin; Worked with various groups, Hmong community, Girl Scouts, etc., tailoring self -defense to their needs; WCTC EMS/Fire Instructor; Martial arts student for over 30 years (Tae kwon Do, Kempo and various other modalities.
Certified Partner SAFE International Self-Defense
BLS Certified American Heart Association
CPR/First Aid Certified Red Cross
Tacfit Certified through RMAX (Scott Sonnon) Instructor for first responders
EMT Basic Certified
Paramedic Certified
Certified Firefighter 1 &2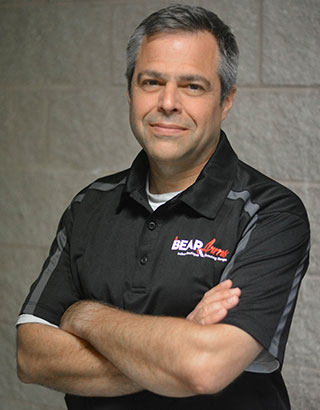 Stephen DeGuire
Instructor
A native of Wisconsin and long-time Mequon resident, Steve has over 35 years of experience as a weapons, operations, and tactics instructor for the military and the federal government. He qualified as an instructor and standards and evaluation officer for a number of platforms including precision rifle, carbine, pistol, and night vision systems. He holds Expert Rifle and Expert Pistol Qualifications from the U.S. Navy and U.S. Air Force. He competed for the U.S. Naval Academy as a member of the High Power Rifle Team. Steve served on active duty as a unit commander with both the Navy and Air Force, deploying for combat operation in Iraq, Afghanistan, Kuwait, Jordan, the Indian Ocean, the Red Sea, and the Mediterranean. He also served as an intelligence officer, specializing in personnel recovery, with two federal agencies and deployed to Europe, Algeria, Tunisia, Morocco, and South Africa.
In addition, Steve was the State Training Officer for Wisconsin Emergency Management where he led the effort, in collaboration with the Federal Emergency Management Agency, to develop and deliver a new emergency management training curriculum incorporating response to terrorist attacks including training on improvised explosive devices and weapons of mass destruction. Steve is a registered Boy Scouts of America Scout Leader and has supported the Bay Lakes Council as a Rifle and Shotgun Merit Badge Counselor and as a Range Safety Officer.
Steve holds Bachelor of Arts and Master of Public Administration degrees and is currently a Juris Doctor candidate at Marquette University Law School. His other certifications and training include: Naval Flight Officer, Naval Air Training and Operating Procedures Standardization (NATOPS) Instructor, Air Force Navigator/Weapons System Officer, Intelligence Officer (GS-132), Defense Intelligence Agency – Joint Military Intelligence Training Center Graduate, Joint Special Operations University Graduate, Federal Emergency Management Agency – Emergency Management Institute Graduate, USAF Survival School Graduate, USAF Arctic Survival School Graduate, USN Ground Safety School Graduate, USN Deep Water Environment Survival Training and Naval Aviation Survival Training Program Graduate.
NRA Certified Pistol Instructor
NRA Certified Rifle Instructor
NRA Range Safety Officer
NRA Instructor-Personal Protection in the Home
MILO Range Certified Instructor
Certified Glock Armorer
Certified Instructor Boy Scouts of America – Rifle Merit Badge