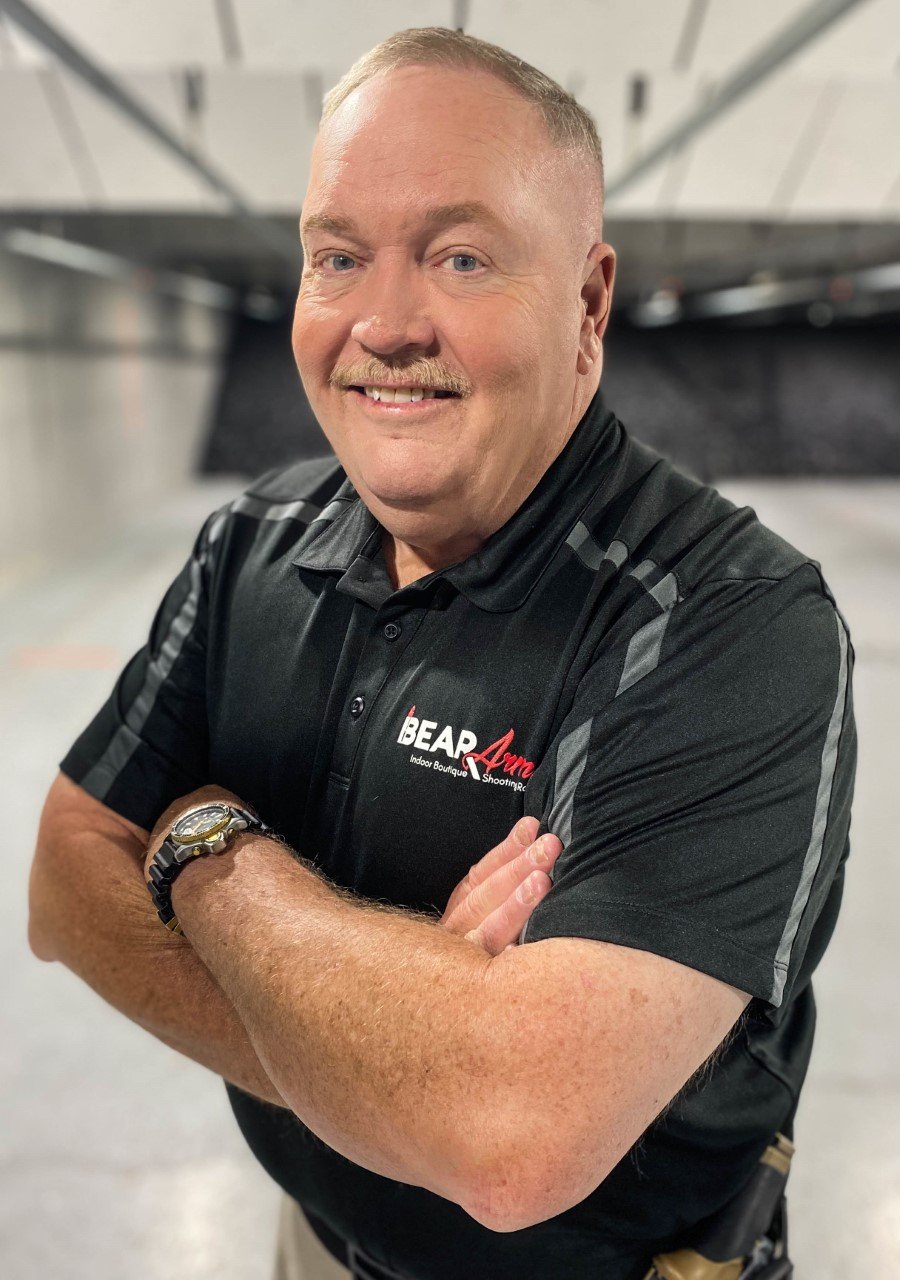 Tom Henley
Instructor
Tom comes to us with a military, law enforcement and private security background. As a member of both the U.S. Marine Corps and the Army National Guard, he served as a field artilleryman and Infantry squad leader.
Tom began his law enforcement career in 1980 with Los Angeles County, earning a distinguished expert firearms designation and was a member of a tactical team. While serving as a police officer in the local community, Tom's duties included patrol officer, K-9 officer, community relations, and field training officer.
Tom has also worked in private security assignments with the Federal Emergency Management Agency, armed prisoner transportation, and in corporate security. He holds NRA certifications as a Range Safety Officer, Handgun, Rifle, and Shotgun instructor, as well as Personal Protection Inside the Home. Tom has used these skills as a private instructor over the last ten years, teaching courses such as the Wisconsin Concealed Carry course.
Tom is proud to be a part of the Bear Arms team where he will use his knowledge and experience to teach both basic and advanced skills, helping his students to become proficient shooters. Tom strives to instill the confidence and expertise necessary to be comfortable using firearms for both personal and family protection.
Member of U.S. Marine Corps and Army National Guard
Distinguished Expert Firearms Designation / Law Enforcement
NRA Certified Range Safety Officer
NRA Certified Instructor – Handgun, Rifle, Shotgun
Private Security – Federal Energy Management Agency
Ten Years + Instructor  — Wisconsin CCW 
Julie Hill
Instructor
Julie started her shooting journey in 2016 when she joined "A Girl and A Gun," a national women's shooting organization. Since then she has invested in learning about several aspects of firearms.
She has held a leadership position within the Saukville chapter of "A Girl and A Gun" since 2019 and has been fortunate to train under national experts including Dave Miller, Josh Crosby, Gabby Franco and John Farnam in the disciplines of pistol, rifle, shotgun, self-protection and competitive shooting. She enjoys participating in competitive events such as local and state IDPA matches, as well as trap and sporting clays. One of her favorite shooting experiences was shooting an AR at steel targets while strapped into a helicopter.
 Julie has added "Stop the Bleed" and "Mequon Citizen's Police Academy" to her training and successfully passed the FBI handgun pistol qualification. She continues to train and is always learning something new.
Julie is patient in her guidance allowing her to work with shooters at all levels. She especially likes to help women feel empowered by the skills they learn so they can apply them in target shooting, competition or self-defense.
USCCA Instructor
NSCA Level 1 Instructor
Head Coach Concordia University Wisconsin Collegiate Shooting Team
NRA Certified Pistol Instructor
NRA Certified Range Safety Officer
IDPA Safety Officer
A Girl and A Gun Certified Trainer
Scholastics Shooting Sports Foundation (SSSF)
Basic Shotgun Shooting Sports Coach and Basic Action Shooting Sports Coach
4-H Certified Pistol and Rifle Leader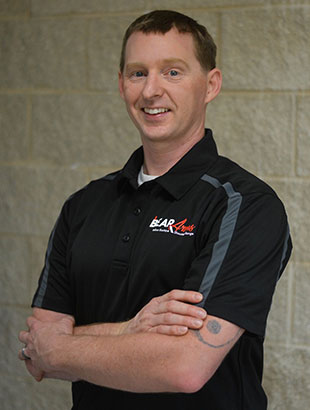 Bill Stedman
Instructor
Bill is a Self-Defense Instructor and Partner at MK Protection Strategies and brings many years of self-defense and martial arts experience to Bear Arms. A firefighter and EMT since 1995, Bill Stedman has a passion for teaching self-defense. "Empowering students in a short amount of time with skills that could be potentially life- saving is extremely rewarding." Bill is a certified partner with SAFE International Self Defense and is proud of his contribution in empowering women and men in the greater Milwaukee area and beyond. SAFE teaches 13,000 high school students per year in over 80 high schools, in college and corporate environments, as well as women's self-defense parties. SAFE International heavily focuses on awareness/avoidance, then verbal and physical strategies. Bill has consistently developed his acumen over the last 36 years, both in the field of martial arts and various other methodologies of practical self-defense.
Some of Bill's projects and experience include: Instructed for Date Safe Project (Can I Kiss You through Mike Domnitrz); Volunteer workshops for Racine Coalition Against Human Trafficking; Annual speaker for Fight to End Exploitation Human trafficking teen event; Conducts corporate wellness self-defense workshops, multiple college, high school and middle school self-defense workshops in Southeastern Wisconsin; Worked with various groups, Hmong community, Girl Scouts, etc., tailoring self -defense to their needs; WCTC EMS/Fire Instructor; Martial arts student for over 30 years (Tae kwon Do, Kempo and various other modalities.
Board Member WCASA, Wisconsin Coalition Against Sexual Assault
Certified Partner SAFE International Self-Defense
BLS Certified American Heart Association
CPR/First Aid Certified Red Cross
Tacfit Certified through RMAX (Scott Sonnon) Instructor for first responders
EMT Basic Certified
Paramedic Certified
Certified Firefighter 1 &2
Dan Weber
Volunteer Instructor
Dan has been a Firefighter/Paramedic with the City of Greenfield for 20 years.  He currently serves as a Battalion Chief with a focus on Community Risk Reduction. This includes fall prevention, narcan training, community service, and CPR. Community Risk Reduction is about reducing risk and preventing emergencies before they happen.  As a CPR instructor, Dan has trained a number of community members in Basic Life Support and Hands Only CPR.  
Jake Fleischmann
Instructor
Jake is an NRA Certified Range Safety Officer. Jake has a vast knowledge for all types of guns and knives, this comes in handy for first-time customers to the range as well as seasoned ones. Jake's patience and can-do attitude knows no limitations. His employment at BearArms started before the range was opened to the public, he is the longest tenured employee.  You can find him behind the counter or instructing a class on most Saturday's and Sunday's.  In Jake's spare time he enjoys hunting, both deer and turkey, golf, and spending time with his wife, Maria, and their two dogs, Cody and Ruger.
Mark Wierzbinski
Instructor
Mark is an NRA Certified Instructor and Range Safety Officer. He has successfully completed instruction and course work from The National Rifle Association (NRA), Front Sight Training Institute, the USCCA (United States Concealed Carry Association), Massad Ayoob Group-MAG 20, Concealed Carry University and the Menomonee Falls and Germantown Citizen Police Academy.  Mark is also certified in First Aid, CPR, AED and the administration of NARCAN.
Mark's teaching style delivers classroom content with hands-on skills and drills in a fun, interactive goal-oriented environment. Mark appreciates that firearms training and education is an intensely personal choice and commitment.  Whatever your current comfort and skill level may be, Mark will work to help you to safely achieve greater confidence and proficiency.
NRA Certified Pistol Instructor
NRA Certified Range Safety Officer
USCCA Certified Instructor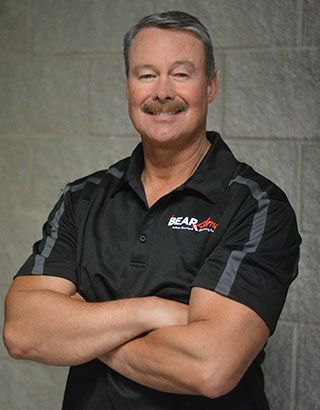 Steve Bzdusek
Instructor
Steve Bzdusek brings many years of experience to Bear Arms as President and Lead Firearms Instructor at My Personal Defense Training, LLC and MPDConcealedCarry.com. Steve has over 30 years of local law enforcement experience, serving 10 years with the Milwaukee Police Department and 22 years with the Mequon Police Department. In 1996, Steve became a WI Department of Justice LESB Firearms Instructor. During his tenure at Mequon P.D., Steve received numerous certifications including Tactical Rifle Instructor, Active Shooter Instructor, Reality Based-Scenario Training Instructor, Simunitions Training Instructor, WI DOJ Concealed Carry Instructor as well as a WI DOJ Defensive and Arrest Tactics Instructor.
Steve served as the Lead Firearms Instructor for Mequon P.D. until his retirement in 2013. After his retirement from Mequon P.D. he became a WI State Fair Park Police Officer and is currently the Firearms Instructor with that department. Steve continues to train law enforcement, civilians and non-sworn university safety personnel in firearms and defensive tactics. He also has experience training civilians, including students and local business employees in Active Shooter strategies. For many years Steve taught the Use of Force module and Shooting Range portion of the Mequon Police Departments Citizen's Police Academy.
Steve is very passionate about firearms training and safety is his top priority in any of his classes. His goal is to help you obtain all of the knowledge and newly acquired skills that you had hoped to gain, and to accomplish that in the most efficient and safest way possible. He is a lifetime member of the FrontSight Firearms Training Institute in Nevada and a three-time Distinguished Graduate of their four-day Defensive Handgun course. His hobbies include being an avid combat pistol shooter, hunter, and wing shooter.
NRA Certified Pistol Instructor
NRA Range Safety Officer
MILO Range Instructor
WI DOJ LESB Firearms Instructor
WI DOJ Training and Standards LESB Defensive and Arrest Tactics Instructor
FBI Tactical Pistol Course
Tactical Rifle Instructor (Fox Valley Tech)
Concealed Carry Trainer (Fox Valley Tech)
Simunition Instructor Training (NE WI Tech)
Active Shooter Instructor Training (NE WI Tech)
Active Shooter Instructor Training (Awareness Protective Consultants)
Force-on-Force, Reality Based Training Instructor (Armiger Police Training Institute)
Defensive Handgun Distinguished graduate (FrontSight Firearms Training Institute)
Massad Ayoob Group MAG-20 Pistol Instructor
Glock Armorer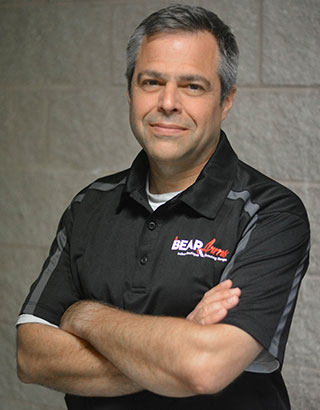 Stephen DeGuire
Instructor
A native of Wisconsin and long-time Mequon resident, Steve has over 35 years of experience as a weapons, operations, and tactics instructor for the military and the federal government. He qualified as an instructor and standards and evaluation officer for a number of platforms including precision rifle, carbine, pistol, and night vision systems. He holds Expert Rifle and Expert Pistol Qualifications from the U.S. Navy and U.S. Air Force. He competed for the U.S. Naval Academy as a member of the High Power Rifle Team. Steve served on active duty as a unit commander with both the Navy and Air Force, deploying for combat operation in Iraq, Afghanistan, Kuwait, Jordan, the Indian Ocean, the Red Sea, and the Mediterranean. He also served as an intelligence officer, specializing in personnel recovery, with two federal agencies and deployed to Europe, Algeria, Tunisia, Morocco, and South Africa.
In addition, Steve was the State Training Officer for Wisconsin Emergency Management where he led the effort, in collaboration with the Federal Emergency Management Agency, to develop and deliver a new emergency management training curriculum incorporating response to terrorist attacks including training on improvised explosive devices and weapons of mass destruction. Steve is a registered Boy Scouts of America Scout Leader and has supported the Bay Lakes Council as a Rifle and Shotgun Merit Badge Counselor and as a Range Safety Officer.
Steve holds Bachelor of Arts and Master of Public Administration degrees and is currently a Juris Doctor candidate at Marquette University Law School. His other certifications and training include: Naval Flight Officer, Naval Air Training and Operating Procedures Standardization (NATOPS) Instructor, Air Force Navigator/Weapons System Officer, Intelligence Officer (GS-132), Defense Intelligence Agency – Joint Military Intelligence Training Center Graduate, Joint Special Operations University Graduate, Federal Emergency Management Agency – Emergency Management Institute Graduate, USAF Survival School Graduate, USAF Arctic Survival School Graduate, USN Ground Safety School Graduate, USN Deep Water Environment Survival Training and Naval Aviation Survival Training Program Graduate.
NRA Certified Pistol Instructor
NRA Certified Rifle Instructor
NRA Range Safety Officer
NRA Instructor-Personal Protection in the Home
MILO Range Certified Instructor
Certified Glock Armorer
Certified Instructor Boy Scouts of America – Rifle Meri