Wisconsin's Only 180° Dry Fire Simulator. 
From first time shooters to law enforcement professionals who are looking for a cost-effective method to train on a dynamic and realistic system, Bear Arms offers the experience of a virtual gun simulator; the same professional simulation systems used by military special operations personnel and local and federal law enforcement.
The SMART ST-180 Gun Simulator has over 300 dynamic scenarios filmed in HD which include realistic, live-action scenes used for training purposes as well as fun animated shooting options used for private events and group competitions. The gun simulator is a highly flexible system that can be tailored to a variety of skill levels and needs, allowing for total training customization including the use of a wide range of firearms and less-lethal self-defense products, such as pepper spray and TASER™.
Patrons enjoying their morning coffee are suddenly confronted by an armed gunman. How would you react if this happened to you? Our simulator presents over 300 scenarios that can test your self-defense instincts and firearms accuracy.
On the lighter side, the ST-180 gun simulator also makes for great entertainment. Available for parties, special events and social functions, the ST-180 will provide your guests with hours of adrenaline-pumping excitement and fast-paced entertainment. Great for team building exercises and training – the ST-180 is the perfect way to liven up company meetings, bachelor/bachelorette parties, social get-togethers, birthday parties, family reunions, local youth groups – all kinds of functions and activities.
More than a high-end video gaming system, the Smart-180 gun simulator is a comprehensive teaching tool that provides an educational experience for young and old, novice or pro. Learn new self-defense techniques, when to shoot, when not to, low light combative exercises, how to avoid life-threatening situations and how to react to life-threatening events. Master the art of firearms control and improve your firearms techniques, marksmanship and shooting range capabilities with the ST-180. Only at Bear Arms.
Available for groups by reservation only 7 days in advance. Call 262.478.9111 to reserve your time today.
The ST-180 is not a toy. Individuals under the age of 18 must be accompanied by a parent or legal guardian who will sign a waiver and remain by their side at all times.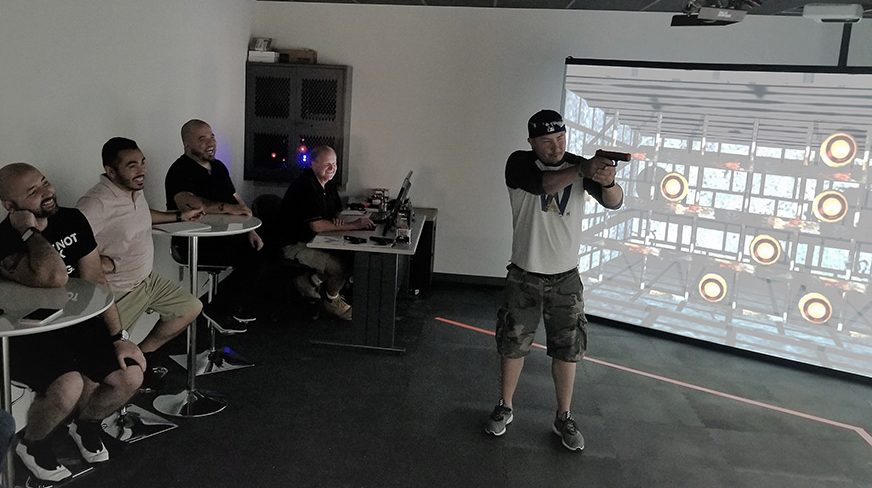 Simulator HD 180 Degree 3 Screen Dry Fire Laser SMART Theater powered by Milo Range. Exclusive to Wisconsin.
Reserve for :
Bachelor/Bachelorette Parties
Graduations
Birthdays
Date Nights
Corporate / Business Team Building
Establish or Strengthen Client Relationships
Socials
Scouting Groups
Educational/Training Civilian Force-on-Force (Rare Opportunity)
Special Rates with instructors
Rates :
$25.00 / 60 minutes for Single Person
$12.50 / 30 minutes – Single Person
$20.00 /  per person — 60 minutes —    2-6 People
* 25% non-refundable deposit is required to schedule the event/group
Includes Unlimited Scenarios, from plinking cans and pumpkins to serious
shoot/don't shoot training, Replica Handguns, Rifles, Taser and ST-180 Video Operator.
Our advanced Simulator provides loads of video fun for kids and family.
Wisconsin's Only Dry-Fire Laser 180 Degree Tri-Screen Firearm Simulator